Matteo Giustiniani ha ereditato la Fattoria Sardi da sua nonna Maria Adelaide Sardi. Oggi insieme a sua moglie Mina è custode di queste terre, proprietà dei Conti Sardi da oltre due secoli.
Entrambi sono laureati in enologia a Bordeaux. Dal 1926 la Fattoria è riconosciuta per la produzione di vini pregiati. Dal 2006 l'azienda produce uva da agricoltura integrata e dal 2011 uva biologica certificata e biodinamica. "Quando hai la fortuna come famiglia di essere "custodi" di un pezzo di terra da generazioni viene naturale guardare al futuro più che al passato. Il futuro è per noi lasciare alle future generazioni suoli e persone migliori di quelle che si sono trovate o incontrate. Da li la scelta di coltivare i suoli e le persone, e tramite di loro le piante. La biodinamica è per noi un forte aiuto in questo."
Organic and biodynamic philosophy
"Il mio obbiettivo è rendere sempre più sostenibile la terra che da generazioni la mia famiglia custodisce. Da qui la scelta di proporre ai nostri consumatori vini di terroir prodotti con uve biologiche certificate e sempre più bio-dinamiche."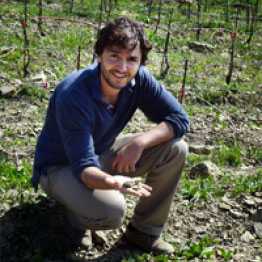 I was born in Florence and so I'm a typical city child. But during my adolescence, I was always either on the vineyard with my grandfather Sebastiano or I was in the kitchen with my other grandfather Felice. As you can see, a passion for both wine and food is in my blood. I inherited from my grandmother (wife of my grandfather Sebastiano) Fattoria Sardi Giustinani in 2002. At this time I decided to study enology and viticulture in the University of Florence. I graduated with distinction in 2006 with a thesis about "business administration of wine estate". Thanks to this study, I have a better understanding of Lucca wine potential. But my desire to learn more about this subject has taken me to Bordeaux where I obtained a Master degree in Enology and Viticulture, also a prize of the best wine taster. The University of Bordeaux helped me to improve basic knowledge about vineyards and wine. During this period, I also worked for one of the most important wine makers in the world – Denis Dubourdieu. He taught me about the sensitivity and the respect for a real "terroir". According to his thoughts, the "terroir" is a mixture of specific soil and specific climate of the region where the wine grower protects a specific "savoir-faire". The wine produced in each "terroir" can be easily recognized and also tastes good. Now I spend some of my time as a wine consultant for some wineries in Tuscany (Avignonesi, Fattoria Piccola), but most of the time I am in Lucca improving my knowledge about the "terroir" that I inherited from my grandmother with a sense of tradition but also innovation. I'm also judge in the : wine tasting commission of Chianti Classico, Brunello di Montalcino, Nobile di Montepulciano and Colline Lucchesi.
"Per un azienda toscana, la scelta di produrre principalmente rose e' inusuale ma la migliore nel rispetto del terroir della nostra azienda. Infatti, condividiamo con la Provenza, la Corsica e la Liguria l'alto mar Tirreno che dona un clima unico, perfetto per la produzione di vini rosati, freschi, sapidi e spesso longevi."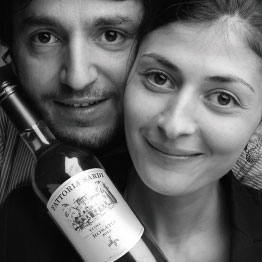 I was born in a small country town, Drama, in northern Greece where agriculture has a leading role, including the production of wine and olive oil. After high school, I moved to Bordeaux, in France, where I obtained a degree in Chemistry and a Master Degree in Oenology and Viticulture, and where I've met my husband, Matteo Giustiniani. I had the chance to work in Chateau Margaux (Margaux) and Chateau La Tour Blanche (Sauternes), both wonderful experiences. In 2012, after our studies and work experience in France for several years, we decided to move in Italy and manage together his family winery in Lucca (northern Tuscany). Our philosophy: grow his historic family winery with a youthful spirit, making terroir wines, experiencing the organic and biodynamic agriculture with an eco- friendly spirit, and grow together the small and noble Lucca's wine Denomination of Origin, DOC Colline Lucchesi.